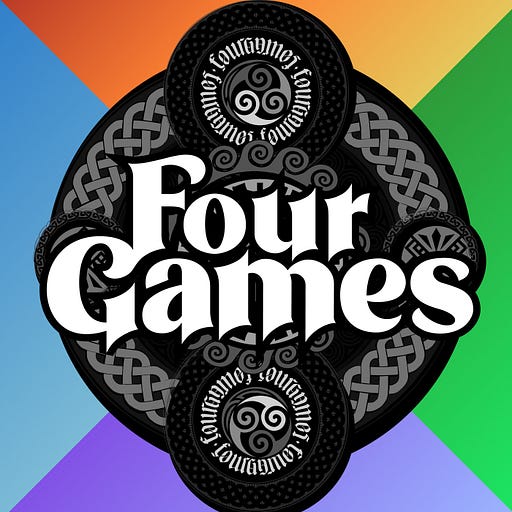 Jul 26, 2022 • 1HR 57M
Swordfighting is a Metaphor for Life - Jamie Combs | FourGames Podcast Ep. 001
FourGame Dynamics is a generative tool to help you (master/play with) the art of harmonizing the many dimensions of life. "So WTF is FourGames?" That's an excellent question! We're glad we just made you read it to yourself! FourGames is a lens that helps you simplify... everything. You're already a master you just don't know it yet. In each episode we'll be talking with masters in areas of 🏋️ Weight lifting, running, yoga 🥩 Diets, nutrition, fasting 💸 Budgeting, investing, side hustles 🤗 Therapy, journaling, mindset 💊 Supplements, biohacking, cold exposure 🧘‍♀️Breathwork, mind-body, dream-work ⁉️ Philosophy, spirituality, happiness
About This Episode:
Welcome to the first episode of the FourGames Podcast! In this episode John interviews the founder of FourGames and the founder of Natural Balance Foods, Jamie Combs. They swordfight, talk about the origins of FourGames, and try the timeline exercise.
Topics Discussed In This Episode:
[0:00] - Introducing myself, what is this series?

[2:10] - Understanding FourGames

[8:45] - How FourGames is helpful to learn anything

[13:40] - 🔵 Interview with Jamie begins, tells the story of FourGames

[15:30] - 🟠 Why martial arts and fitness are so transformative to people's four games and lives.

[20:25] - 🟢 How FourGames can help you speak to specialists in any industry.

[29:25] - 🟣 Thinking about your life as a relationship with everything

[37:55] - 🟣 How to think simple, have fun and get things done.

[41:30] - 🟢 Jamie uses literal color-tinted lenses to teach what a "lens" mental model is.

[56:45] - 🟡 How John and Jamie think about making content and experiences that entertains and educates people

[01:01:09] - 🟠 Jamie teaches the fundamental elements of Swordfighting

[01:09:15] - 🟠 Jamie and John talk while they spar with the swords

[01:11:00] - 🔴 How does music impact your mood? How does your mood change the nature of whatever activity you're doing?

[01:23:00] - 🟢 The FourGame punching bag and why it's useful

[1:32:45] - 🔵 Jamie's story of using FourGames to run his previous company, Natural Balance Foods

[1:39:05] - 🔵 Jamie shows how the "Timeline" technique helps you think about your life's purpose

[1:50:00] - 🔴🟢 How a toxic environment, the pandemic, and depressive periods helped John get his FourGame shit together.

[1:52:40] - 🟣 Jamie talks about aging and death

[1:55:30] - Outro!
Quotes In This Episode:
We slice the chaos into a few dimensions and try to give them a few reps in each dimension - Jamie Combs

You do have something to be scared of. But you don't have to run away. You have choices. - Jamie Combs
Follow FourGame Dynamics:
Resources: